Anbringung

Kinderleicht anzubringen - siehe "how to" Link!
das tattoo kommt in Form der Sohle und ist nur mehr zurecht zu schneiden
attachment
Very easy to install - see "how to" link!
the tattoo comes in the form of the sole and only manage to cut

Was bedeutet "small" und "large" beim shoe-tattoo?
S  - tattoo nur für den Steg der Sohle, also nur der Teil, der gesehen wird, wenn der Schuh hingestellt ist (ohne die vordere Auftrittsfläche)
What does "small" and "large" mean in shoe-tattoo?
S - tattoo on the web of the sole, thus only the part that is seen when the shoe is put down (without the front tread surface)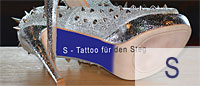 L  - tattoo für die gesamte Sohle inklusive Auftrittfläche
L - tattoo for the entire sole including tread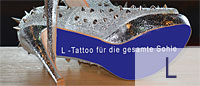 Sticker:
stickers: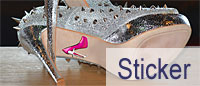 Ist das shoe-tattoo rutschfest?
Das shoe-tattoo verhält sich in etwa wie die Sohle eines neuen Schuhs.
Does the shoe tattoo slip?
The shoe tattoo behaves somewhat like the sole of a new shoe.
Wie lange hält ein shoe-tatttoo?
Geschaffen wurde das shoe-tattoo ursprünglich für  "be princess for one night"!
Je nach Trage-Häufigkeit und Anwendung - unsere und die Erfahrung vieler Kunden zeigt uns eine Haltbarkeit von bis zu mehreren Wochen.
How long does a shoe-tatttoo last?
Originally it was created it for "be princess for one night"!
Depending on the carrier frequency and application - our customers and the experience of many shows us a shelf life of up to several weeks.
Kann ich mein eigenes shoe-tattoo designen  -  nur für mich privat, oder für meine Firma?
Selbstverständlich helfen wir gerne bei der Umsetzung Ihres eigenen Designs. Schicken Sie uns einfach eine Anfrage an support@shoe-tattoo.net und wir stellen Ihnen ein individuelles Angebot.
Can I design my own shoe-tattoo - just for me privately, or for my company?
Of course, we will help you to realize your own designs. Just send us an inquiry to support@shoe-tattoo.net and we will provide you a custom quote.

Gibt es das shoe-tattoo auch für Herrenschuhe?
Ja! Ab Juli 2015 sind die ersten Modelle für Herrenschuhe im Online-Shop erhältlich.
Are there shoe tattoos for Men's Shoes?
Yes! As of July 2015, the first models are available for men's shoes in our online shop.

Sollte es noch unbeantwortete Fragen geben oder benötigen Sie weitere Informationen?
Zögern Sie nicht, uns eine Anfrage zu senden, wir sind bemüht, alle Anliegen so rasch wie möglich zu bearbeiten.
If there are still unanswered questions or do you need more information?
Do not hesitate to send us an inquiry, we are dedicated to process all requests as quickly as possible.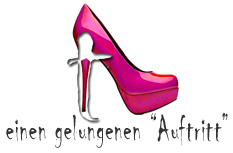 wünscht Ihnen das Team von "the shoe-tattoo"