questions on shoe-tattoo

attachment
Very easy to install - see "how to" link!
the tattoo comes in the form of the sole and only manage to cut


What does "small" and "large" mean in shoe-tattoo?
S - tattoo on the web of the sole, thus only the part that is seen when the shoe is put down (without the front tread surface)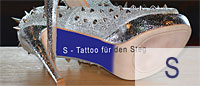 L - tattoo for the entire sole including tread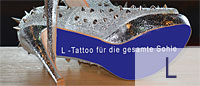 stickers: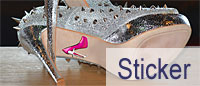 Does the shoe tattoo slip?
The shoe tattoo behaves somewhat like the sole of a new shoe.
How long does a shoe-tatttoo last?
Originally it was created it for "be princess for one night"!
Depending on the carrier frequency and application - our customers and the experience of many shows us a shelf life of up to several weeks.
Can I design my own shoe-tattoo - just for me privately, or for my company?
Of course, we will help you to realize your own designs. Just send us an inquiry to support@shoe-tattoo.net and we will provide you a custom quote.


If there are still unanswered questions or do you need more information?
Do not hesitate to send us an inquiry, we are dedicated to process all requests as quickly as possible.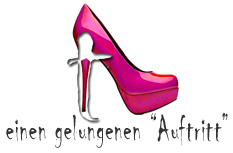 from the team of "the shoe-tattoo"